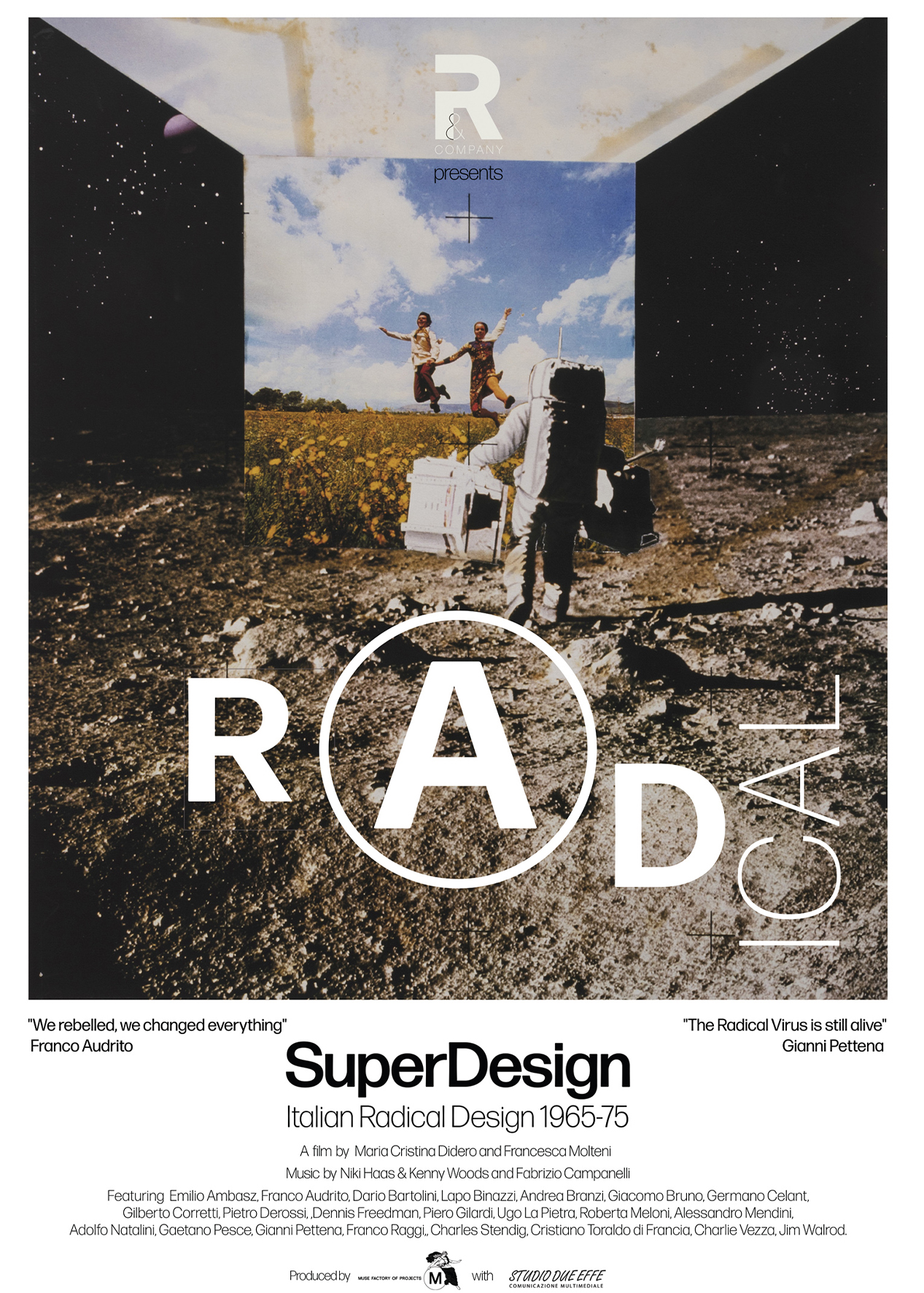 SuperDesign
Italian Radical Design 1965 - 1975
Synopsis

SuperDesign is a film about 19 players of the Italian Radical Movement. 
Through their words and their stories, we retrace the history and the heritage of the movement. They take us back to that time when everything seemed possible. We encountered Emilio Ambasz, Franco Audrito, Dario Bartolini, Lapo Binazzi, Andrea Branzi, Germano Celant, Gilberto Coretti, Pietro Derossi, Piero Gilardi, Ugo La Pietra, Roberta Meloni, Alessandro Mendini, Adolfo Natalini, Gaetano Pesce, Gianni Pettena, Franco Raggi, Charlie Stendig, Cristiano Toraldo di Francia, Jim Walrod. The mid-1960s represented a revolutionary time when the need for change has spread everywhere in the Western world and has pervaded all the aspects of life. Some beautiful archival historical images recreate the atmosphere of the period. 
It was a time of 'positive turbulence' also on an artistic level. And even today we can definitely catch a glimpse of this radical virus in our interviewees!

The movement took its steps in Italy – in the 1960s crossed by a wave of political violence, bombings and terrorism, but at the same time an excitingly creative place: because of the energy of its industrialists and the ability and the creativity of its designers, Italy started becoming a global focus for design.
Looking at the works of these architects, designers and curators, walking with them through their cities alleys, listening to their revolutionary ideals, we find that the dreams, the utopias, the ideologies and the passion which have permeated their experience and their art are still alive nowadays.
Listening to our protagonists' stories, our question is: What is left today, what is the Radical Movement's heritage, in a historical period in which the speed of cultural change have resulted not only in a generalized conformity, but also in a loss of values and in the rise of populist parties and nationalist movements?
Film info

Original Title

SuperDesign

Original language

Italian/English
Credits

Movie by

Maria Cristina Didero e Francesca Molteni

Directed by

Francesca Molteni

Screenplay

Maria Cristina Didero, Francesca Molteni

Photography

Mario Flandoli, Alvise Tedesco

Editing by

Anna Pastorelli, Studio Due Effe

Music

Fabrizio Campanelli, Niki Haas

Production

Muse Factory of Projects, R & Company Gallery

Cast

Emilio Ambasz, Franco Audrito, Dario Bartolini, Lapo Binazzi, Andrea Branzi, Germano Celant, Gilberto Coretti, Pietro Derossi, Piero Gilardi, Ugo La Pietra, Roberta Meloni, Alessandro Mendini, Adolfo Natalini, Gaetano Pesce, Gianni Pettena, Franco Raggi, Charlie Stendig, Cristiano Toraldo di Francia, Jim Walrod

In collaboration with

Studio Due Effe
Trailer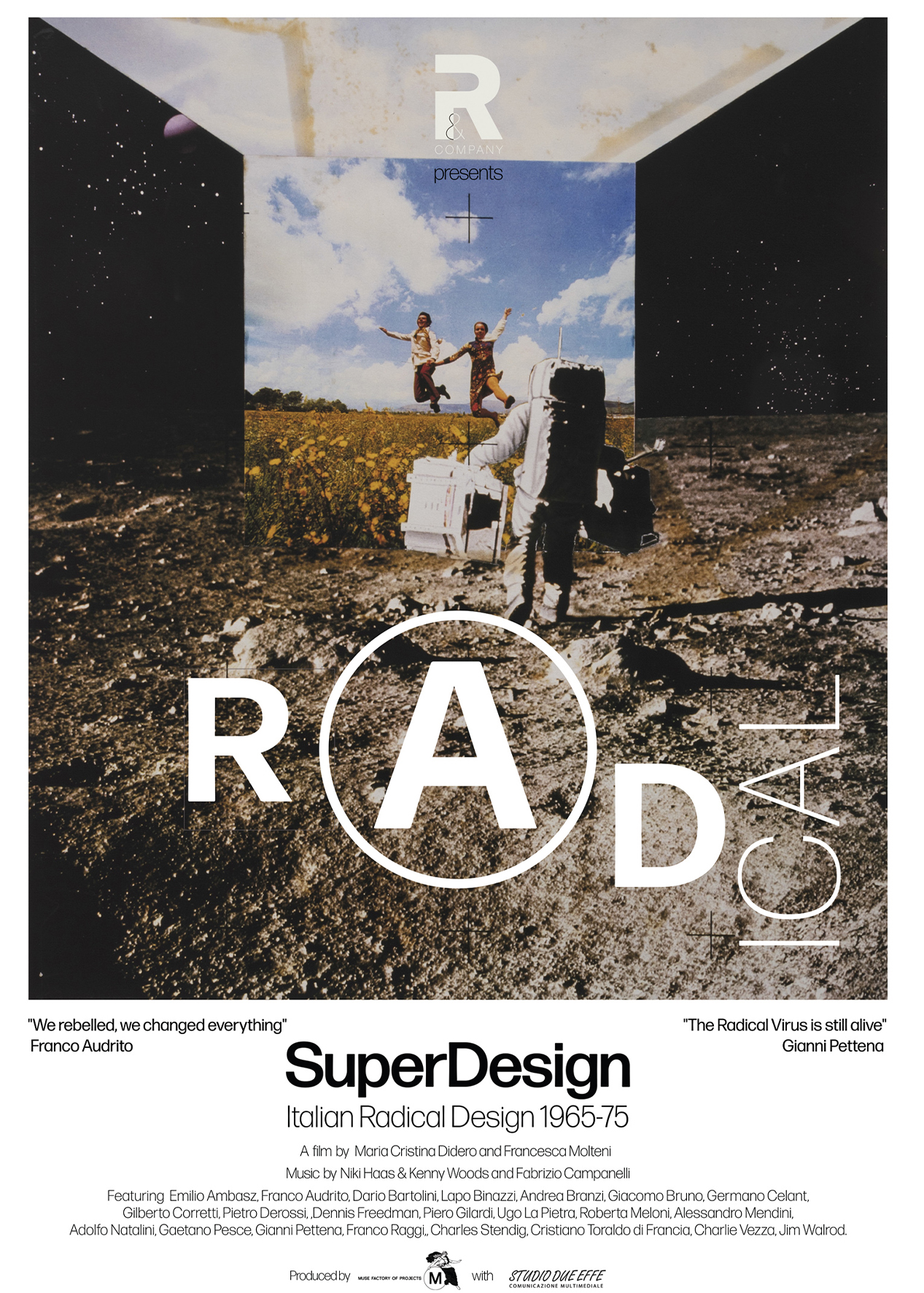 Available on
For university only